Welcome to Miller Law
At Miller Law in West Chester, Pennsylvania, we take particular pride in the personal attention we devote to every case. For our clients, we offer experienced and passionate legal representation in a wide range of cases, including criminal defense, family law, personal injury, small business law,estate planning, and probate law. We handle both less controversial cases such as preparing your first will or seeking damages due to dog bites, to more serious cases ranging from auto injuries to business litigation to drug trafficking charges. Whether you are a Delaware Valley resident or someone from out of the area in need of legal representation in Pennsylvania, Miller Law of PA has the knowledge and experience to undertake your case. We will prepare the most effective and thorough case to promote the best interests of you, our client.
We will be happy to provide a no-obligation, initial consultation to those who are not already represented by an attorney and are serious about retaining private counsel. At Miller Law, we are personable and approachable, and you will have the opportunity to get to know us before deciding to hire us to represent you.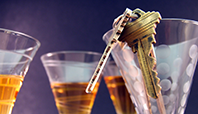 Arrested for a DUI?
We Can Help
Our attorneys fight aggressively for those individuals charged with DUI. If you've been charged with drunk driving / DUI / DWI in PA, you will need help just understanding the complex charges you are facing. Give us a call to discuss your case.
Learn More